Calendar of Events
January Events
►Sunday, January 11, 2015 Potluck & Special Guest Speaker, Dr. Will Tuttle
Liz & Jamie's House 4903 Love Rd.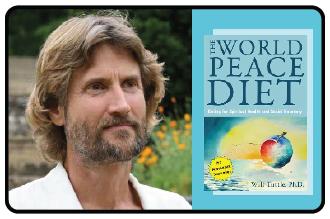 Dr. Will Tuttle, author of The World Peace Diet, is a pianist, composer, educator, and recipient of the Courage of Conscience Award. A former Zen monk, his Ph.D. from U.C. Berkeley focused on educating intuition and altruism. The World Peace Diet, which became a #1 Amazon best-seller in March 2010, offers a compelling and liberating new understanding of our food and our culture. It has been called one of the most important books of the 21st century: the foundation of a new society based on the truth of the interconnectedness of all life. It is the first book to make explicit the invisible connections between our culture, our food, and the source of our broad range of problems–and the way to a positive transformation in our individual and collective lives.
· Dinner at 5 pm, presentation at 6 pm.
· World cuisine is the featured theme. Please bring a vegan dish enough for 8 from a country of your choice.
· Please RSVP before noon on Friday, January 9th by calling Jennifer at (915) 373-7300 or send an email to vsep.reserve@gmail.com.
· All food must be VEGAN, and please bring a copy of your recipe to place along side your dish.  Please also avoid palm oil and trans fats, which are ingredients in many substitute foods and are harmful to the environment and our bodies.
· For questions, email our Potluck Coordinator, Jennifer at jwright@pdhie.org or call 373-7300.
Guidelines for Potluck Dinners
All dishes must be completely vegan – no exceptions. Food must not contain any flesh (fish, fowl or beast), eggs, dairy products or honey. This rule guarantees that everyone can eat everything (allergies & preferences aside).
Please watch out for hidden milk products, such as whey in cookies, crackers, bread and margarine, and casein or caseinate in "non-dairy" soy cheeses and whipped toppings. Some margarines contain gelatin. Also, be alert for eggs in baked goods, mayonnaise in salad dressings, and honey in breads, pastries and preserves.
Please prepare a 4×6 card with:
~Your name
~Name of the dish
~A list of all the ingredients
~The recipe on the back, indicating where the recipe came from (or if it is original).
Prepare enough to serve ten (10) people.
Please bring your own table setting as well as a serving utensil.
If you don't feel like cooking, you may bring a green salad, chips & salsa, fruit, or another vegan munchie.
Your host will provide drinks.
February Events
►Saturday, February 21, 2015 Winter Dinner with Guest Speaker Erica Meier
Holiday Inn, 900 Sunland Park Dr.
Erica has served as Executive Director for the national organization Compassion Over Killing since 2005, after being an active volunteer starting in 2000. Since taking the helm, she's taken the organization to new heights with continued growth and accomplishments for animals that include ending the egg industry's use of the misleading claim "Animal Care Certified" and successfully persuading BOCA foods to stop using eggs.
Vegan for 20 years, Erica has been working in the animal protection field since college. In 2013 , she was honored with the prestigious Animal Rights Hall of Fame award. Before working at COK, Erica spent several years as an animal control officer in Washington, DC where she rescued sick, stray, and homeless animals as well as enforced anti-cruelty laws.
· 6 pm meet and greet, eat at 6:30 pm
· Cost: $18 members & students w/ID; $20 nonmembers; $10 children under 12 years of age.
· Paid reservations are due Tuesday, February 17.
· Reserve your space by email at vsep.reserve@gmail.com OR call 915-799-0349.  Pay online or make check or money orders payable to VSEP & mail to: VSEP, 6757 Gato Rd., El Paso, TX 79932.