Welcome

Welcome!
We are a non-profit organization dedicated to improving life on our planet by educating the public about the benefits of adopting a plant-based lifestyle. We promote compassion toward animals, the environment, and humanity by choosing to live cruelty-free. Adopting a plant-based diet makes perfect sense for many reasons. Vegetarians and vegans enjoy great health, inner peace, and a strong connection with the earth and the environment. We come from all walks of life and all areas of the world. We are all ages, colors, and cultures. Regardless of your reason for your interest in vegetarianism, we invite you to explore our site, contact us, attend our dinners and meet nationally and internationally known vegetarians, get involved and join our society. See for yourself how going vegetarian or vegan truly is the best thing you can do for yourself, the animals, and the earth.
_______________________________________________________
Spring Dinner & Vegan Buffet

featuring

Dr. Brooke Goldner

Saturday, May 5, 2018

Sunland Park Holiday Inn

Brooke is a medical doctor, a psychiatrist and author of the book Goodbye Lupus, about how she cured her own Lupus with a vegan diet. Now, she educates physicians and patients on how to heal and achieve vibrant health using her protocol and supermarket foods. Dr. Goldner's Hyper-nourishing Healing Protocol has helped patients with Lupus and a multitude of other diseases.
Dr. Goldner has starred in videos and documentaries such as Eating You Alive, Whitewash, The Conspiracy Against Your Health, Goodbye Lupus, and Super Healthy Meals for Your Family.  She has appeared on TV news and media outlets such as, The Home & Family Show, Natural News Radio, Wellness Radio, and has been featured on the cover of Vegan Health & Fitness Magazine.
Dr. Goldner graduated with honors from Carnegie Mellon University. She received her M.D.  from Temple University School of Medicine, and was Chief Resident at UCLA-Harbor Residency in Psychiatry. She also holds a certification in Plant-Based Nutrition from Cornell University.
* 6 pm meet and greet, eat at 6:30 pm
* Vegan buffet includes: vegan cheese enchiladas in red sauce, refried beans with tomato and onion, Spanish rice, guacamole, salsa, salad, chocolate pudding with strawberry garnish
* Paid reservations are due Tuesday, May 1, 2018.
*To reserve and pay with PayPal or a credit card go to www.vsep.org and click on Events – Pay Online. After you complete the payment, please e-mail the names of those attending to VSoEP@aol.com. We need to have all the names of our guests as well as who the students and children are.
* To pay with a check or money order, please first make your reservations via e-mail
to VSoEP@aol.com, or text/call (915) 877-3030. Please include all the name(s) of those attending as well as indicate the students and children. Then mail your check or money order to VSEP, 6757 Gato Rd., El Paso, TX 79932. Make sure your payment is received before the reservation deadline.
Paid Reservations deadline: Tuesday,  May 1st

No refunds but paid reservations are transferable before the reservation deadline and as long as VSEP is notified
(text or call 915-877-3030).
________________________________________________________
El Paso Best of Veg 2017 –

Announcing the Winners!



For the past 5 years VSEP and EP VegSnob have held a Best of Veg – El Paso contest among our local eateries.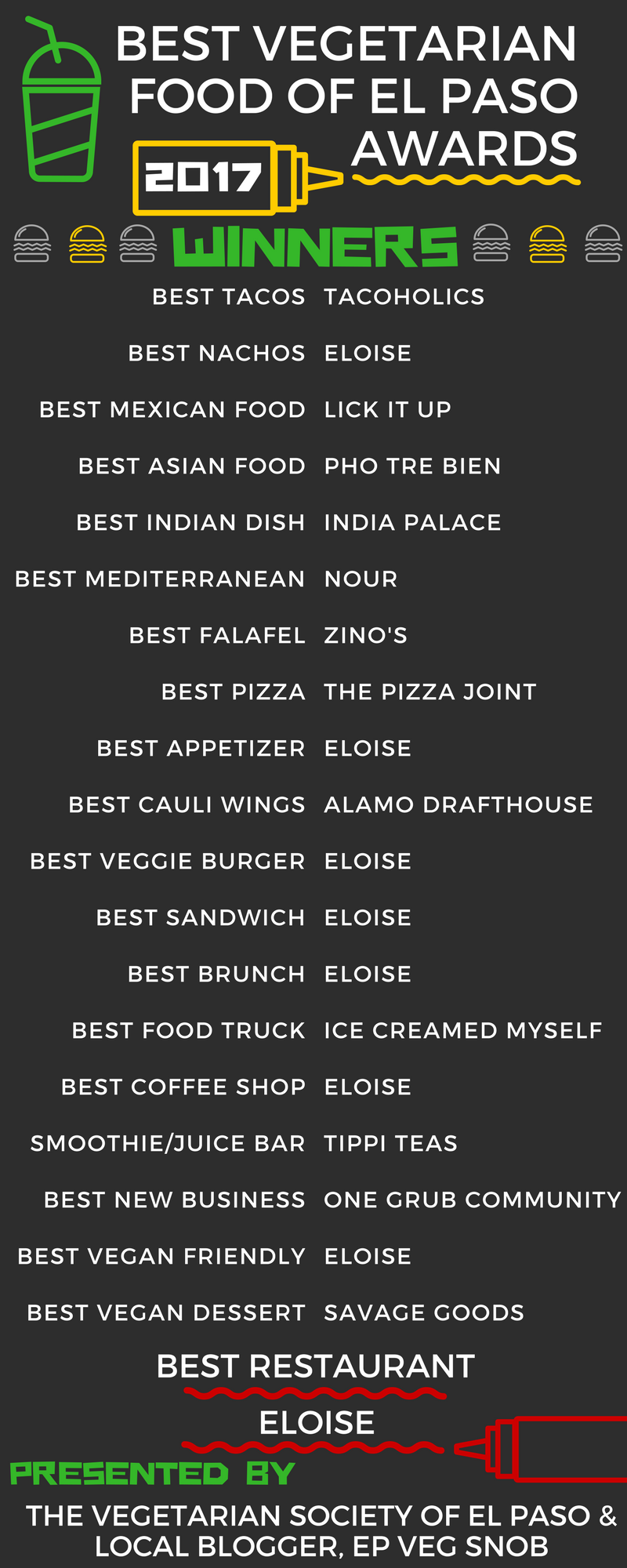 ________________________________________________________
Hosts Greg Lawson & Tom Linney with guest Hal Marcus in the KTEP studio.
Listen to  Greg, Tom, and Liz talking about the health, ethical and compassionate benefits of eating a plant-based diet.  
 Tune in to KTEP 88.5 for ACT Radio 
(Animal Concerns of Texas) on the 2nd and 4th Sunday of the month

or, later, go to the archives at KTEP and click on the listen button
_______________
_______________
Veg News Items
Online shopping ?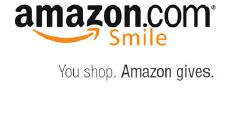 VSEP is participating in the Amazon Smile program! If you shop online at Amazon, 0.5% of your eligible Amazon purchases will be donated to VSEP.  All you have to do is visit smile.amazon.com and start shopping!
Need Cooking Inspiration or Vegan Friendly Material?
It's at your public library!
They have many vegan cookbooks in both print and ebook formats. You can also download free digital copies of Vegetarian Times and other magazines.
Visit your nearest branch or elpasolibrary.org for more information.
___________________
From the Prez
This February the Vegetarian Society turns 25 years old and we plan to celebrate!
El Paso and VSEP have undergone many positive changes in the last 2 ½ decades. We have grown from a handful of founding members to 65 life members and over 260 supporting members. Make it a goal to recruit at least 2 new members this year and help us grow!
Some of us remember the days of searching for restaurants with vegan options and when finding them, wondering if in fact they were in fact vegan and after some internal dilemmas ordering the salad with oil and vinegar dressing. Have times changed! We now have several vegan-only eateries and many more that have vegan and vegetarian options. We can now find vegan breakfast burritos, donuts, coffeecake and other delicious dishes at Savage Baked Goods (by the way, if you haven't tried it yet, join us there for a special restaurant hopper later this spring). You can also order vegan treats from Sane Treats, Brenda's Baked Goods, and Orange Peel Bakery. For lunch and dinner options, there is the vegan Lick It Up food truck outside the Monarch bar, Eloise's Meatless Monday's discount, and Whole Food's Monday vegan burger and beer special.
Vegetarian and Vegan values associated with treating animals more compassionately are also permeating El Paso's culture. We now have a dedicated crime unit working on animal abuse issues – making sure those that abuse animals are held accountable. Although it is sad to read the articles about the abuses, it is reassuring to know that our community will not continue to tolerant them. There is also talk of our shelter becoming a no-kill facility. This will be a challenge given the number of companion animals that are abandoned each year in our city. Each year when animal control releasing the number of animals that are euthanized, it is a wake up call for the need to continue education efforts on the benefits of spay-neuter programs and the need to end back year breeding. On the bright side, it seems that the tide is changing and most El Pasoans are treating their animals as companions rather than possessions that can easily be discarded and replaced. Continued education and providing positive role models are the keys!
We will coordinate with UTEP's Environmental Advocates for a tabling event along with Animal Place's Brave the Cage campaign on the UTEP campus on Feb 28- Mar 1 from 10 a.m. – 3 p.m. (contact vsep.reserve@gmail.com to volunteer).
One way that we will we be celebrating our 25th Anniversary year is by hosting a community event. We will be hosting a workshop, Training the Chefs. This event will feature a internationally renown chef trainer who will provide vegan menus and preparation techniques along with dietary and other information to a variety of El Paso chefs representing restaurants, hospitals, schools, and assisted living facilities. The workshop will culminate with the chefs preparing a vegan dinner. We have applied for a grant from the Pollination Project (we will hear the results March 9th) but regardless of the outcome, we are going forward with this exciting project. Keep an eye out for updates and ways that you can engage.
Join VSEP for a vegan bake sale at Ardovino's Farmers Market in April to celebrate Earth Day. If you would like to bring baked goods to sell, help man our booth or just stop by and enjoy some delicious vegan desserts send an email to vsep.reserve@gmail.com. We will try to a have a few gluten-free options as well.
Our Spring Dinner of VSEP will be a fiesta! On May 5, Cinco de Mayo, we will enjoy a Mexican dinner at the Holiday Inn Sunland Park. Our guest speaker will be Dr. Brooke Goldner, an M.D., a psychiatrist and author of the book Goodbye Lupus. Dr. Goldner was diagnosed with systemic lupus nephritis with stage IV kidney disease at 16 years old and made a startling recovery from her disease at 28 years old by embracing a vegan diet. Now, she educates physicians and patients on how to heal and achieve vibrant health using foods available from any supermarket.
As usual, we will be having a variety of restaurant hoppers, including one at Gallery 3 Kitchen, throughout the Spring. Check out our calendar of events at www.vsep.org for details.
Once again, thanks to all of you for helping VSEP a successful organization – we can't do it without you! Please join us at our monthly board meetings, volunteer, host a potluck or attend one of our events. New ideas are always welcome.
Here's to a peaceful, compassionate, earth- and heart-healthy spring!
Liz Walsh
VSEP President
P.S. Have some extra time this spring, volunteer with VSEP! See our open positions by going to vsep.org and clicking on the VSEP leadership link.
____________________
Featured Blogs/Post:
Roman and Adriana Wilcox believe that every human has the right to good, clean, hearty food. Their belief and the classic Bob Marley song "One Love" helped create One Grub Community. The One Grub Community call themselves El Paso's first meatless merchants, selling planted-based vegan food and strive to provide peace, love and grub. They're a part of a small vegan community that's growing in El Paso. "Food is a right, not a luxury. Access to healthy food is a human right and (Roman) shows…
Shared from https://www.theprospectordaily.com/2017/11/27/one-grub-strives-to-to-provide-peace-love-and-grub/