Welcome

Welcome!
We are a non-profit organization dedicated to improving life on our planet by educating the public about the benefits of adopting a plant-based lifestyle. We promote compassion toward animals, the environment, and humanity by choosing to live cruelty-free. Adopting a plant-based diet makes perfect sense for many reasons. Vegetarians and vegans enjoy great health, inner peace, and a strong connection with the earth and the environment. We come from all walks of life and all areas of the world. We are all ages, colors, and cultures. Regardless of your reason for your interest in vegetarianism, we invite you to explore our site, contact us, attend our dinners and meet nationally and internationally known vegetarians, get involved and join our society. See for yourself how going vegetarian or vegan truly is the best thing you can do for yourself, the animals, and the earth.
_______________________________________________________
Special Event: Training the chefs.
Please call or text (915) 526-7590 to register
_______________________________________________________
Special Event: A Fancy High Tea Vegan Brunch
Tippi Teas, Kern location, 2501 Stanton.
Sunday August 12th, 10 am
Reservations are now closed, please join us for a future event.
Dust off your fancy or silly hat and wear it at the High Tea, it's encouraged.

Price: $20 per person including gratuity.
The service will be provided in ceramic teapots and cups and will include a "High Tea" setting with a self serve table for Sandwiches and Scones.
– First Serving-
* Teapot of Mango Pear Love White Tea
* Cucumber /  Cashew Creamcheese Sandwiches ( Organic bread no edges )
* Strawberry / Cashew Creamchesse Sandwiches ( Organic bread no edges )
* Spinach / Cucumber Cashew Creamcheese Sandwiches (Organic bread no edges)
– Second Serving-
* Teapot of Coconut Chai Rooibos Tea with side Organic Almond Milk
* Vegan Blueberry Scones side of Fruit Jam.
The store will open at 
10 am
 (one hour early) for event customers, regular customers will be allowed after 
11 am
 when the store starts regular hours.
Reservations are now open
*To reserve and pay with PayPal or a credit card go to www.vsep.org and click on Events – Pay Online. After you complete the payment, please e-mail the names of those attending to VSoEP@aol.com. We need to have all the names of our guests as well as who the students and children are.
***********************************************************
IN MEMORY OF OUR DEAR 
MEMBER
TIMA VELARDE
(April 21, 1971 – April 2, 2018)
first published in the Voice for All Animals newsletter January 1996
Free Sebastian!
By Steve Best
UTEP student Tima Velarde was having an experience we can all relate to — trying to find some decent vegetarian fare at a carnivore's restaurant. The place was Landry's Seafood House, and on her way out the door she spotted an enormous lobster imprisoned in a glass cage, its huge claws taped tightly shut, completely immobile, a pitiful giant.
Appalled at this spectacle of cruelty, Tima decided the lobster had to be freed. Upon talking with the kitchen manager, she found out that the lobster had been shipped recently from Massachusetts and had not been fed since its arrival. She was told the lobster weighed 13 pounds and was 56 years old (but, according to PETA, a lobster lives seven years for every pound, which could make him 91 years old). Going for the market price of $200.00, unable to be cooked for lack of a large enough pot, the manager nicely offered to sell the lobster to Tima for only $85.00. Tima named him "Sebastian," gathered up money she did not have, and set out to repatriate Sebastian to where he belongs — the ocean waters.
You may already know that lobsters are remarkable animals. They can live to be up to 150 years old, they can make seasonal journeys up to 100 miles long, they carry their young for nine months, and like dolphins they have a complicated set of communication signals to establish social relationships. Although they evolved over 100 million years ago, and can navigate ocean currents adeptly, only .01% survive the world's most dangerous predator, the human being. In the United States alone, over 20 million are killed each year.
Lobsters indeed are sentient beings and their nervous system does not allow them to go into shock. So, when placed in a pot of boiling water fully conscious as they claw pitifully at the sides of the pot, the suffer intensely for three long minutes until they die, ready for the graveyard of the dinner plate.
Tima knew she could not save all the lobsters, but she decided at least she could save Sebastian. She contacted Sukie Sargent who called Tucson animal rights activist Roberta Wright, who had experience in lobster liberation, successfully stopping Reay's, a chain store, from selling them. Roberta referred her to Ofelya Rotunda, a PETA contact in New Hampshire, who has experience in releasing lobsters back into the ocean off the coast of Maine. Sukie also spoke with Tracy Reiman, PETA's International Grass Roots Campaign Coordinator, who faxed her detailed instructions about how to handle shipping a lobster through the mail, provided a list of national media contact, and herself notified CNN and 20/20.
But, much would have to be done in the meantime. Sukie immediately faxed press releases for the event of freeing Sebastian to local and national news She arranged to have Sebastian released on Wednesday January 17. Unfortunately, this was the day of the huge dust storm that blew through El Paso. Worried that the plane would not leave that day, Sukie postponed Sebastian's release until Thursday, 6 p.m., and sent out a new batch of faxes to the media.
And there were other problems. Nate, the cook at Landry's assured Sukie that he had the proper boxes to ship Sebastian, but when Sukie arrived on Thursday at 1 p.m., she found that he did not have a top to the box. Sukie frantically began a search for a proper cover to the box, and shortly before 6 p.m. found something that would fit enough cutting and pasting.
At the designated time, Tima and a small group representing Voice For All Animals met with channels 7 and 26 at Landry's as Sebastian was gently lifted from his prison and placed snugly into the box that would carry him home. His small eyes looked up at the group and sparkled, almost as if he knew he was in loving, fork-free hands.
But Sebastian was not yet out of troubled waters. Although Federal Express initially told Sukie there would be no problem putting a live lobster through the mail, she was told at the office on Airport Blvd. that no pets could be shipped! Well, Sebastian was no one's pet and once Sukie assured the manager that no one expected a guarantee Sebastian would make the journey alive and well (they could only promise that he would get a rough ride from automated machinery), he was on his was, with "This way up! " and "Good Luck, Sebastian!" written all over the box in a large black print.
That night we watched the TV report on Sebastian. Our hearts warmed at the thought the he was on his way home, due to arrive in New Hampshire the next morning. But we worried about his safety and said a prayer to the lobster God. The next afternoon, Sukie got the good news from Ofelya: Sebastian had arrived and was in good shape. Ofelya discovered that Sebastian in fact weighed 15 pounds, making him 105 years old!. Ofelya did not have a cooler large enough to fit him comfortable, so she transferred him to the cardboard box that he was shipped in and with a CNN crew made the hour-long drive to Maine, where it is illegal to capture lobsters of Sebastian's size.
Unfortunately, when Ofelya, CNN, and Sebastian arrived in Maine, there was a storm coming and the waves were pounding the rocks. After some time, Ofelya found a safe place to release Sebastian, and she watched him bob in and out of the water, before finally swimming under the waves, home free!
At this very moment, Sebastian is likely eating and happily scuttling around, socializing with other lobsters, moving his great claws and body freely. Though CNN's coverage of the story on Tuesday, January 23, and though the upcoming 20/20 story on this same issue, millions of people will come to know Sebastian and, hopefully become more conscious and compassionate in their relation to our brothers and sisters of the animal kingdom.
Until all lobsters, are free, until all animals are free, we must continue to act compassionately at every possible opportunity. We can all learn from Tima's example who not only expressed outrage at the abuse of animals, but undertook decisive action. Tima, we all thank you, and most of all so does Sebastian.
________________________________________________________
El Paso Best of Veg 2017 –

Announcing the Winners!



For the past 5 years VSEP and EP VegSnob have held a Best of Veg – El Paso contest among our local eateries.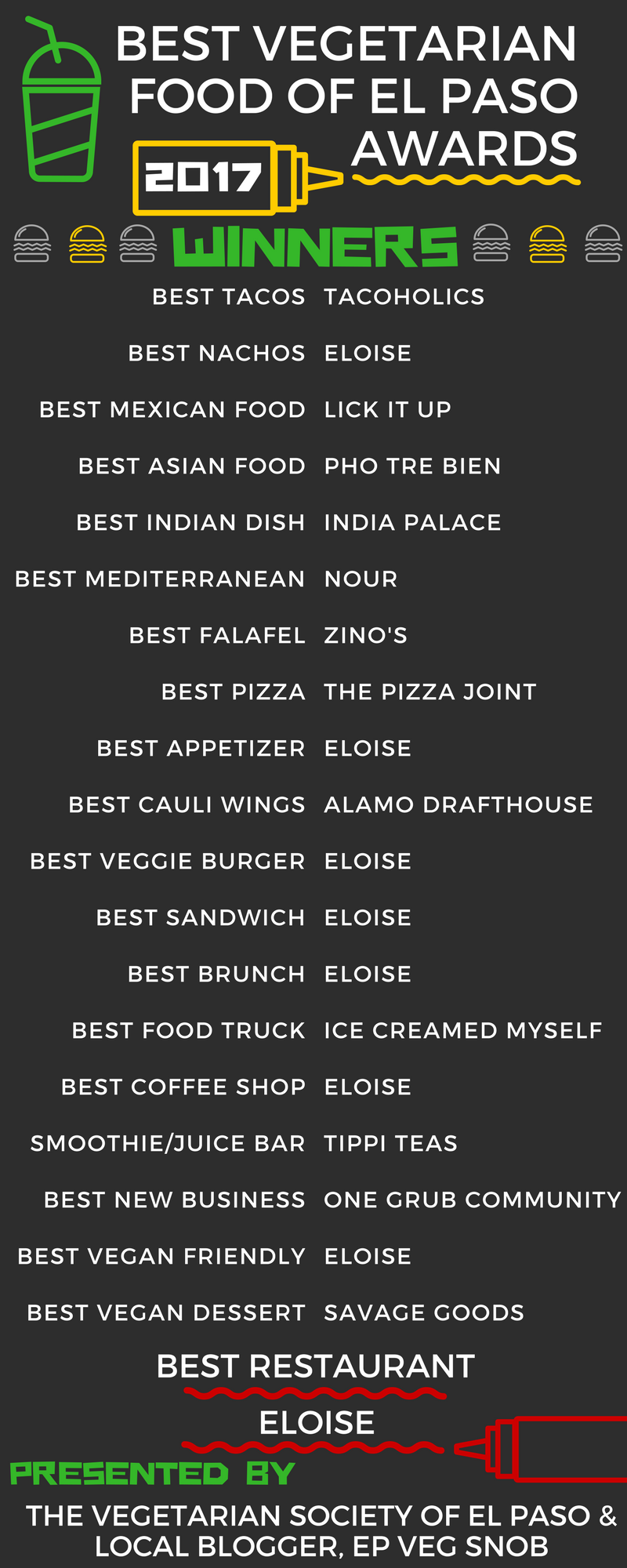 ________________________________________________________
Hosts Greg Lawson & Tom Linney with guest Hal Marcus in the KTEP studio.
Listen to  Greg, Tom, and Liz talking about the health, ethical and compassionate benefits of eating a plant-based diet.  
 Tune in to KTEP 88.5 for ACT Radio 
(Animal Concerns of Texas) on the 2nd and 4th Sunday of the month

or, later, go to the archives at KTEP and click on the listen button
_______________
_______________
Veg News Items
Online shopping ?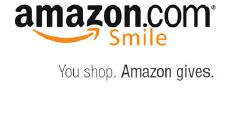 VSEP is participating in the Amazon Smile program! If you shop online at Amazon, 0.5% of your eligible Amazon purchases will be donated to VSEP.  All you have to do is visit smile.amazon.com and start shopping!
Need Cooking Inspiration or Vegan Friendly Material?
It's at your public library!
They have many vegan cookbooks in both print and ebook formats. You can also download free digital copies of Vegetarian Times and other magazines.
Visit your nearest branch or elpasolibrary.org for more information.
___________________
From the Prez
Veg Society turned 25 years old this year and we plan to celebrate!
What better time than summer to enjoy refreshing fruits and vegetables. Healthy vegan food choices abound at this time of the year. Whether by visiting one of our local farmers markets or growing your own, nothing tastes better than freshly harvested fruits and veggies. And as we heard from Dr. Brooke Goldner at our May dinner, we should all be eating more raw veggies for optimal health benefits. If you want something not quite so healthy but refreshing in the summer heat, come to VSEP's vegan ice cream social at Tippi Teas. If you entertaining guests this summer and need a little help with vegan treats, we have two vegan bakeries that have a delicious variety of sweet treats – Savage Goods here in El Paso and Sane Vegan Treats out of Las Cruces.
Getting back to pursuing a healthy summertime diet, we are featuring a restaurant hopper at the Green Ingredient Express. The night will feature delicious Peruvian food, music and food story telling by Jackie and Ulises! You don't want to miss this special occasion. Seats are limited so reserve today!
We also hope you will join us for our Summer Dinner and a Movie. We will watch the comedy "Carnage: Swallowing the past." This comedic film takes places in Britain in 2067 when it has become illegal to eat meat, dairy, and eggs. In this "mockumentary" veganism is the status quo. Although humorous, Carnage explores how ideas, like what comprises appropriate foods, spread through society and in the end it makes a convincing case for veganism.
Last but not least, we received the grant from the Pollination Project "Training the Chefs!" We have tentatively scheduled this event for the week of Aug 27th. We will be working with the Humane Society of the US Executive Chef Wanda White and another professional chef trainer. Chef White opened the nation's first vegan dining hall at the University of North Texas in 2010. Wouldn't it be great to have a vegan dining hall at UTEP or on one of the EPCC campuses! More details to come.
Check out our Calendar of Events where you can find detailed information on all of VSEP's summer activities.
Finally, I want to give a special thanks to all of our volunteers. We rely on you, our members, to help keep VSEP vibrant by planning, organizing and participating in all of our events. If you have an idea you would like to share for increasing our impact, please come and share your vision at our monthly Board meetings.
Hope to see you soon!
Liz Walsh
VSEP President
P.S. Have some extra time this spring, volunteer with VSEP! See our open positions by going to vsep.org and clicking on the VSEP leadership link.
____________________
Featured Blogs/Post:
______________________________________________________
Roman and Adriana Wilcox believe that every human has the right to good, clean, hearty food. Their belief and the classic Bob Marley song "One Love" helped create One Grub Community. The One Grub Community call themselves El Paso's first meatless merchants, selling planted-based vegan food and strive to provide peace, love and grub. They're a part of a small vegan community that's growing in El Paso. "Food is a right, not a luxury. Access to healthy food is a human right and (Roman) shows…
Shared from https://www.theprospectordaily.com/2017/11/27/one-grub-strives-to-to-provide-peace-love-and-grub/