Welcome
Welcome!
We are a non-profit organization dedicated to improving life on our planet by educating the public about the benefits of adopting a plant-based lifestyle. We promote compassion toward animals, the environment, and humanity by choosing to live cruelty-free. Adopting a plant-based diet makes perfect sense for many reasons. Vegetarians and Vegans enjoy great health, inner peace, and a strong connection with the earth and the environment. We come from all walks of life and all areas of the world. We are all ages, colors, and cultures. Regardless of your reason for your interest in vegetarianism, we invite you to explore our site, contact us, attend our dinners and meet nationally and internationally known vegetarians, get involved and join our society. See for yourself how going vegetarian or vegan truly is the best thing you can do for yourself, the animals, and the earth.
_______________
February Event
►Saturday, February 21, 2015 Winter Dinner with Guest Speaker Erica Meier
Holiday Inn, 900 Sunland Park Dr.
RESERVATIONS are CLOSED
Erica has served as Executive Director for the national organization Compassion Over Killing since 2005, after being an active volunteer starting in 2000. Since taking the helm, she's taken the organization to new heights with continued growth and accomplishments for animals that include ending the egg industry's use of the misleading claim "Animal Care Certified" and successfully persuading BOCA foods to stop using eggs.
Vegan for 20 years, Erica has been working in the animal protection field since college. In 2013 , she was honored with the prestigious Animal Rights Hall of Fame award. Before working at COK, Erica spent several years as an animal control officer in Washington, DC where she rescued sick, stray, and homeless animals as well as enforced anti-cruelty laws.
· 6 pm meet and greet, eat at 6:30 pm
· Cost: $18 members & students w/ID; $20 nonmembers; $10 children under 12 years of age.
· Paid reservations are due Tuesday, February 17.
· Reserve your space by email at vsep.reserve@gmail.com OR call 915-799-0349.  Pay online or make check or money orders payable to VSEP & mail to: VSEP, 6757 Gato Rd., El Paso, TX 79932.
________________________
Open Call for Artists!
GUIDELINES
"All You Can Eat"
The Hal Marcus Gallery, in conjunction with the Vegetarian Society of El Paso, is looking for area artists to submit art images for an upcoming show entitled "All You Can Eat".
Artwork accepted may be considered for use in future publications of the Vegetarian Society of El Paso.
To be considered, these GUIDELINES tell you what you need to know and do.
1)    The Gallery is seeking high quality art in good taste, depicting vegetarian inspired art as the subject – no meat, fish, dairy or eggs.
2)    There is no entry fee.
3)    All mediums will be considered.
4)    Size Limit:  50" in any direction including the frame
5)    Up to 2 pieces per artists may be submitted for consideration.
6)    Submittal Period:  now through Wed. February 25, 2015.
7)    Rules: Submittal is via email to info@halmarcus.com  Send the following
·      Your Name
·      Mailing Address
·      Cell phone # or best phone number to reach you or one where we can leave a message
·      Email Address (this is the address we will use to notify you & send any communications)
·      Title for each piece
·      Date artwork completed for each piece
·      Sizes for each piece – put both sizes framed & unframed
·      Medium  for each piece
·      Sales Price for each piece (to calculate the sales price, figure out how much you want for the piece and double it)
·      Attach to your email one JPEG image for each piece  (High Res. 300 dpi no greater than 1 MB ea. photo)
8)    A committee will select the art.
9)    Decision Date:  On or before Friday, February 27, artists will be notified by email of whether or not their work has been selected.
10) Selected artists must be able to attend both events: the Opening and the ARTalk
11) Once you have been selected, you will be given a formal agreement.
12) The Gallery will retain 50% of anything sold.
13) Artists are paid within 30 days after the end of the exhibit or if sold on layaway, within 30 days of completion of layaway payments
14) Artist agrees to permit gallery to reproduce selected art for promotional purposes.
15) Frames are required: drawings, photographs and paintings must be framed with hanging hardware and wire attached.  Only gallery wrapped canvases will be accepted without frames.
VSEP COOKBOOK !
Call for Recipe Submissions
We are looking to create a collaborative vegan cookbook with recipes from our fabulous VSEP chefs out there. This is an opportunity to share some of your favorite recipes with El Paso. We are asking that if you have a special dish or a trick for cooking a certain vegan item, to share them and we will create a book that will be used as a fundraising opportunity for VSEP.
We are looking for original recipes that members have created. Due to copyright laws we cannot accept recipes that come from other cookbooks or from other sources. If you have created your own recipe or have substantially improved a recipe, we can include it.
We also welcome and encourage any pictures of your culinary adventures! We would love to include any contributions that you may have including substitution ideas, cooking tips, photos, artwork or words of wisdom for fellow vegan or aspiring vegan chefs.
Please submit your recipes, cooking tips, substitution ideas and words wisdom as MS Word files, and your high resolution images and artwork as jpg files. Send submissions to Sumer (sumer8586@gmail.com) or Lisa (bettyfemme@gmail.com) by Feb 1, 2015.

_______________
Veg News Items
Online shopping for the holidays?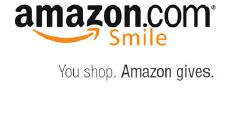 VSEP is participating in the Amazon Smile program! If you shop online at Amazon, 0.5% of your eligible Amazon purchases will be donated to VSEP.  All you have to do is visit smile.amazon.com and start shopping!
Need Cooking Inspiration or Vegan Friendly Material?
It's at your public library!
They have many vegan cookbooks in both print and ebook formats. You can also download free digital copies of Vegetarian Times and other magazines.
Visit your nearest branch or elpasolibrary.org for more information.
Have you been using your Albertsons Community Key Tag?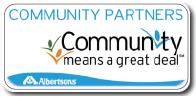 Every time you shop at Albertsons, you can help raise funds for VSEP! Just present your key tag to the cashier to get scanned, and Albertsons will donate 1% of your purchase totals to VSEP. If you've lost or misplaced your key tag, contact Liz Walsh and she'll get you a replacement. Call her at 915-342-7630 or email liz.walsh.rotifer@gmail.com.
_______________
____________________
From the Prez
It is hard to believe another year has come to a close! I want to personally thank all of you for your commitment to the Vegetarian Society of El Paso, and special thanks to those of you who have attended Board meetings, organized and attended potlucks, restaurant hoppers, vegan bake sales, cooking for the homeless, and vegan drinks, donated raffle items at our dinners, voted for El Paso's Best of Veg, and/or tabled at a community event.  We couldn't have had such a successful year without your help. And we will be counting on you in the coming year to help keep VSEP vibrant and to help spread the word about the environmental, spiritual and ethical benefits of a plant-based diet. Your ideas for new activities are always welcome!
We had a wonderful Holiday gathering at the home of Hal Marcus and Patricia Medeci on December 7th. They not only generously hosted our potluck, they also opened the Hal Marcus Gallery. It was an evening full of wonderful vegan food, exquisite art and good conversation. Thanks so much Hal and Pat for hosting and to all of you that brought your delicious vegan food and good cheer!
In January, I will be hosting a potluck and informal talk by Will Tuttle, author of the Amazon bestseller World Peace Diet. Will is a pianist, composer, educator, and recipient of the Courage of Conscience Award. A former Zen monk, his Ph.D. from U.C. Berkeley focused on educating
____________________
Featured Blogs:
Speaker from our May 4, 2013 Quarterly Dinner blogs about El Paso and us (VSEP)! Click Here to read!
El Paso Veg Snob by Lisa Martinez  Find out what's cooking around El Paso with the city's best blogger! Read Lisa's review of the Singapore Cafe here!