Welcome
Welcome!
We are a non-profit organization dedicated to improving life on our planet by educating the public about the benefits of adopting a plant-based lifestyle. We promote compassion toward animals, the environment, and humanity by choosing to live cruelty-free. Adopting a plant-based diet makes perfect sense for many reasons. Vegetarians and Vegans enjoy great health, inner peace, and a strong connection with the earth and the environment. We come from all walks of life and all areas of the world. We are all ages, colors, and cultures. Regardless of your reason for your interest in vegetarianism, we invite you to explore our site, contact us, attend our dinners and meet nationally and internationally known vegetarians, get involved and join our society. See for yourself how going vegetarian or vegan truly is the best thing you can do for yourself, the animals, and the earth.
_______________
Veg News Items
Another Way to Donate to VSEP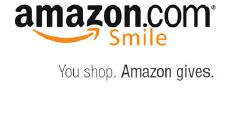 VSEP is now participating in the Amazon Smile program! If you shop online at Amazon, 0.5% of your eligible Amazon purchases will be donated to VSEP.  All you have to do is visit smile.amazon.com and start shopping!
Tasty, Trendy Tapas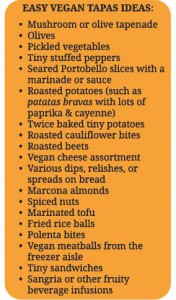 We've chosen tapas as the theme of our potluck in October!  So what the heck are tapas, anyway?  Jennifer Wright, our potluck coordinator, explains and dishes out ideas!
Tapas can be any of a wide variety of appetizers or snacks, cold or hot.  According to Wikipedia, "tapas" is from the word 'tapar', to cover, as the original serving suggestion was to use a piece of bread or small plate to cover your glass of sherry to keep out the fruit flies!  There are various versions of that etymology out there, but one thing is certain:  tapas typically have strong flavors such as garlic, chile, paprika, cumin, salt, pepper, saffron, red or green peppers, and plentiful olive oil and tomato-based sauces.  Served in bars all over Spain, where people usually stand to consume them with wine, beer, or grape juice, tapas tide people over after work before their typically late dinner.
Tapas can vary from freshly made, to right out of a can, and often are designed to be speared with a toothpick for ease of consumption.  The allure is the small servings so that people can enjoy a great variety without getting overstuffed.  Think of things that can be eaten in a single bite.
Try Googling "vegan tapas recipes" and you'll be amazed by the assortment of recipes on the Internet, like mini quiches with lemon cashew cream.  And, of course, tapas were designed with strong flavors so the bars would sell more drinks, so we will definitely need beverages of whatever persuasion.  A nice fruity Sangria with or without wine, perhaps?  We look forward to having you join us.  See our Calendar of Events for details.
Start a Natural Food Co-op in El Paso!
If you've ever been to the Mountain View Market Co-op in Las Cruces and loved it, now's your chance to help bring one to El Paso.  All that's needed to start a natural and organic grocery co-op in El Paso is a minimum of 100 people willing to order groceries and/or harvest boxes through the Las Cruces co-op and pick them up at the Ardovino's Farmers Market for a full year.  For more information, visit facebook.com/StartFoodCoOpElPasoTX.
Have You Tried…?
Here's a roundup of some great vegan and vegetarian food in El Paso:
•Lemongrass Tofu Bahn Mi Sandwich @ Pho Tre Bien Express (4309 Fred Wilson). Make it vegan by ordering it without mayo!  Other vegan menu items are available, too. www.phoelpaso.com
•Veggie Menudo @ Joe, Vinnie, & Bronson's Bohemian Cafe (824 N. Piedras). Usually served on Sundays, but check their Facebook page to verify.  They have other great vegan options, too!
•Quinoa Wraps @ Sabertooth Food Co. (4012 N. Mesa, next to Hope & Anchor).  They have other vegetarian items.  Find them on Facebook.
•Vegan Sushi @ Dragonfly Wine & Sushi Bistro (5500 Doniphan).  Chef Ji will create a special roll for you or you can create your own.  they have vegan cream cheese!  This is also the location of our next Hopper.  Find them on facebook.

VSEP & EP Veg Snob are proud to announce the second annual Best Vegetarian Food of El Paso awards!
•Voting is open to everyone, but please only vote once.
•The voting site details will be emailed to members and posted on all VSEP sites in October.
•Voting site will open from October 18-November 1
•If you don't see your favorites on the ballot, you'll be able to write in a nominee.  Check out the VSEP Newsletter for categories and current nominees.
•Category winners will be announced at our Vegan Drinks Meetup on November 8 at Tosca & at the Compassionate Thanksgiving Dinner on November 15.
•Details on both of the events are on the Calendar of Events.
____________________
From the Prez
Hi Everyone, The summer rains have arrived and our desert landscape has been refreshed and is full of life.  It is a time to appreciate the creatures that we share in our community.  Late summer is full of activity.  All of a sudden butterflies are everywhere, responding to the greenery.  Mosquitoes are out in force too.  But fall bird migration is already underway, and the swallows, warblers, and even, shorebirds that stop in El Paso on their way south are eating the mosquitoes.  As hard as life can be for these wild creatures, they are able to live their lives attuned to the seasons, following their natural instincts.  This is in in stark contrast to farmed animals, who live lives constricted to the boundaries of human convenience, and who are eventually killed for our pleasure and not out of necessity. Here at the Vegetarian Society of El Paso we can be thankful that we are no longer investing in animal surffering for human pleasure, and that in letting go, we are creating a better world for wild creatures as well, by reducing the need for acreage used for livestock and their feed.  Sometimes, one good turn does lead to another.
Our Fall calendar is full of opportunities to connect with like-minded friends new and old…Potlucks, Restaurant Hoppers, a Vegan Bake Sale, Vegan Drinks Meetups, and, of course, our Compassionate Thanksgiving Dinner in November.  This dinner is usually the Read more…
____________________
Featured Blogs:
Speaker from our May 4, 2013 Quarterly Dinner blogs about El Paso and us (VSEP)! Click Here to read!
El Paso Veg Snob by Lisa Martinez  Find out what's cooking around El Paso with the city's best blogger! Read Lisa's review of the Singapore Cafe here!